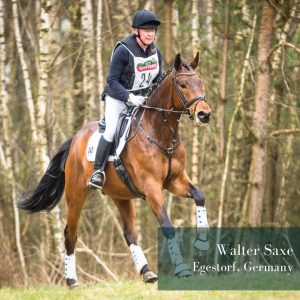 Walter found his love for horses when he was just 5 years old. Although his parents were no horse people, he has been dreaming during his whole childhood to have a horse for himself. At 18 years of age he bought his first gelding and since then he has never stopped to let those lovable beings be part of his life. The awareness to be responsible for their well-being has been growing from year to year. The harmony between rider and horse became one of his primary goals. The principals of classical riding and the positive influence and devotion of sensitive coaches taught him the right balance between ambition and partnership with his horses. As an eventing rider and coach he appreciates the tight relationship and high commitment to his horses.
By chance he read about The Masterson Method® and was immediately thrilled. He bought the book and DVD and started his awesome journey into horses' body and soul. The weekend seminar, the advanced course, fieldwork-studies and certification lasted 19 month. The gratefulness and deep connection that where built up to all treated horses keeps on fascinating him. His key experience was the "mysterious lameness" of Alonso, a 7 years old eventing gelding. All thinkable therapies and examinations could not help him. Walter was his last chance.
The icing in the cake to believe in the effectiveness of Jim's method was Alonso's rescue, as he walked clearly after 3 sessions. A lot of beautiful sport horses have been enjoying in the meantime the Masterson Method® and have increased visibly their performance. Walter's biggest aim is that many horse people in Germany experience The Masterson Method® for their horses and start to learn it for themselves.