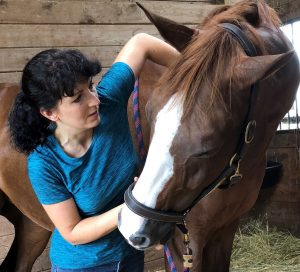 Valissa finds immeasurable joy in helping horses and their people through her bodywork practice, offering The Masterson Method®, equine craniosacral and her ongoing education in equine osteopathy. As the owner of Winning Hand Equine, LLC, Valissa warmly welcomes horses of all walks of life into her client family. Every horse Valissa works with holds a special place in her heart. Her current practice includes retired racehorses, show jumpers, dressage horses, lesson horses, rescue horses, family horses and geriatric horses, to name a few. Some of the most rewarding and gratifying work of her life has been helping horses through her bodywork practice, due in no small part to her training in The Masterson Method®.
In addition to her Masterson Method certification, Valissa has studied equine craniosacral therapy at the Upledger Institute and has taken additional courses in equine studies from the University of Guelph in Ontario, Canada. She is currently studying equine osteopathy at the Vluggen Institute of Equine Osteopathy, a rigorous, 4-year program taught by Dutch human and equine osteopath, Janek Vluggen DO, MRO-EU, EDO® of Waldfeucht, Germany.
Sharing her fascination and providing a guiding path for others is an integral part of her journey. Valissa loves presenting demonstrations for clubs, organizations and private farms highlighting the Masterson Method and the benefits of bodywork, and delights in helping Masterson Method students along their journeys as a certification fieldwork coach. She has also assisted numerous Masterson Method clinics and seminars. Her passion is infectious and her private clients are well acquainted with her face lighting up while discussing their horses and bodywork.
Valissa possesses strong analytical skills coupled with her highly intuitive nature. Each horse is a fascinating puzzle to solve. Her solid knowledge of equine anatomy, physiology, and biomechanics united with her ability to perceive and guide subtle shifts in the tissue forms the art of her bodywork practice.
Being an artist is very familiar to Valissa, having spent 30 years as a concert violinist and teacher. For 20 years she was a regular guest musician with The Philadelphia Orchestra and has performed, recorded and toured with the orchestra throughout the United States, Asia, Europe and South America. She holds a Doctorate in Violin Performance from Rutgers University.
The integrity, technical mastery, refinement of artistry, intuitive skills, ongoing pursuit of knowledge and unadulterated passion that led to Valissa's successful career as a violinist are now carried fully into her equine bodywork practice. For her, there is no other way.
You may find her on Facebook
Sicklerville, New Jersey , United States