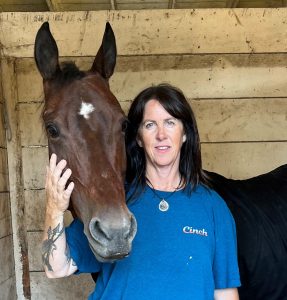 Val found The Masterson Method® through a friend who introduced her to MMCP, Amy Alford who was then still in fieldwork. When Val had Amy out to work on her own horse, Buddy, she was impressed at how he melted into Amy's arms. Val knew she had to check out this method and she soon found herself in a 2 day Beyond Horse Massage Course with Sandy Vreeburg. Val was hooked.
Taking the path to become a certified Masterson Method® Practitioner has changed Val's life, notably emerging when she found herself at a significantly challenging crossroad. This doesn't begin to touch on the impact Masterson Method® has had on Val. She really has no words to express the effect of Masterson Method® on her life; it is beyond description.
Val and her daughter have a shared passion for horses. They have ridden in gymkhana together, and now her daughter has moved into ranch riding while Val's path is taking her to competitive reining and boxing cows. Her old ranch horse, Buddy, is now retired and enjoys his Masterson Method® sessions. The ranch disciplines can take a toll on horses especially in the hind end region. Val understands the needs of these highly competitive horses and she works to help them regain their stride.
As an MMCP Val is dedicated to sharing this profound evolution she has gone through with the horses who come her way for bodywork. Val has a gentle touch and ability to read the horse to best help them release tensions and restrictions in their body. Located in the Gilroy area, Val will travel to the East Bay and the Central Valley to help your horse realize their full potential.