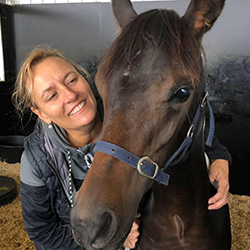 Toni Horsley started her career in bodywork as a Remedial Massage Therapist and has maintained a successful private practice in Sydney for over two decades. She also has vast experience in Sydney's major hospitals as a Massage Therapist and during this time has worked with everyone from newborns to the elderly and every one in between.
In her private practice she has worked with people of all walks of life, including elite athletes, dancers, medical professionals and movie stars. Toni has a passion for bodywork and over the years has continually evolved and upgraded her skills to include Lymphatic Drainage, Shiatsu, Reflexology, Bowen Technique, Energetic Rebalancing and Healing, Positional Release, Sport Massage and Stretching.
Toni has a reputation for being a sensitive, talented, effective and professional therapist who is highly respected amongst the medical and wider community. Having a lifelong love of horses, she has learned to love dressage, and competes regularly and instructs at Pony Club.
It quickly became apparent to her that horses suffered the same physical and muscular complaints as humans and it was only a matter of time before she re-trained and extended her bodywork to include horses, combining her two passions. Since then, the focus of her education has been on equine bodywork.