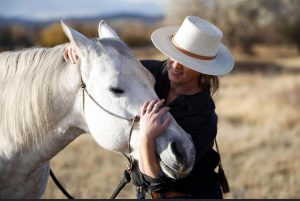 Tiffany was born and raised in Clancy, MT. She was infected with horse fever at an early age and knew that someday she would have horses and property of her own. She grew up riding on friends' ranches and never passed up the chance to ride with her mom and aunt who both grew up rodeoing.
In 2013 while living on a ranch in Bozeman, Tiffany added a little grey mare to her herd and it quicky became apparent that she had a lot going on with her body. Through her veterinarian and other horse owners in the area, Tiffany was introduced to the Masterson Method®. After hiring a practitioner to work with Izzy and watching a few body work sessions, Tiffany knew that she wanted to someday be able to help horses in the same way.
In 2021 Tiffany made the decision to follow her heart. Leaving behind her corporate career, she started her journey to become a Masterson Method® practitioner and has never looked back.