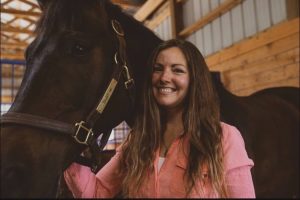 My name is Tiffany Downs.  I am a passionate Equine Bodyworker and I live in Northern Indiana right about on the tip of Lake Michigan in a town called Michigan City.  My business name is Equine Bodywork by Tiffany and I can be found on Facebook and Instagram.   You can message me there or reach me through my cell 219-878-3476
When I was 12 years old, my family and I went for our yearly trail ride at the local riding stable.  It was then that I knew horses were going to be a large part of my life.  I acquired my first pony about that time and I worked at this local stable after school to pay off his board.  I never really took official riding lessons but learned how to ride by just riding my pony, Tucker, as fast as we could go through the open field and pastures.  He really did teach me all I ever needed to know about riding and maneuvering through life in general.
I did not come from a family surrounded by horses and farms.  Oddly enough, my interests then and now are quite different. Nevertheless, I got every book I could find on horses.  I checked out every book at the library with a horse on the cover.  I was passionate!
Working at the barn from age 12 to 16 really helped me to establish a good work ethic and granted me with a great knowledge of responsibility.  It was then I decided to go for the "big girl" job and left to explore different career opportunities.  In 2012, I became certified as a yoga instructor and managed a studio for a few years among other things but, there was always this yearning to go back to the barn– to be outside and be out feeding the horses in the early mornings before anyone else was awake!  I craved that. And I missed it.  It was absolutely time to get back at it.  It was time to really figure out what I was actually going to do with my life.
During my yoga teacher training and while teaching classes, I found that I was always able to "feel" more then what I was actually seeing.  For example, I was really good at helping students make adjustments during classes to better their poses and postures.  So, I knew whatever I decided to do for a career, it was going to be hands-on.
My love for being at the barn while wanting to graduate up from being a typical stable-hand plus having a really good 'feel' in my hands had me doing some math and I decided to go for equine bodywork.   I ordered Jim Masterson's Beyond Horse Massage book online and took the soonest course I could find. I was assured I was on the right career path.  Helping as many horses as I could through feel and intuition seemed like my cup of tea.
I am passionate about effectively helping as many horses as I can and along the way, I discovered I enjoy helping owners understand more about what their horse may be trying to express.