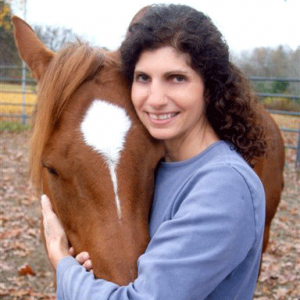 Terry has loved, owned and ridden horses since childhood. This is why she is so passionate about the hands-on non-invasive therapy work she does today in her Massage & More Equine Therapy practice. It not only helps the horses to be the best they can be but also builds a very close bond with them; and we all know how special that can be.
After receiving her Veterinarian Technician License, life lead her into the Corporate World for many years. Now her journey has taken her full circle back to her true passion. She has spent the last 11 years researching and taking courses in several Equine Therapeutic Modalities. In addition to recently acquiring certification in The Masterson Method "("TM")", she is currently certified in Equine Massage, Rehabilitation and Reike. She has also taken courses in Acupressure, Myofascial Release and Sports Training. The Masterson Method "(TM")" has taught her how to have a constant conversation with her horse throughout the entire bodywork session. Terry feels that learning how to read and listen more closely to the horse and allowing them to participate in the work results in deeper and longer-lasting releases. The Masterson Method "(TM")" compliments all modalities. It is a great asset for anyone doing this work!
Today she is very fortunate and excited to have the opportunity to use her knowledge and skills to help our beloved horses of all sizes, breeds, and styles of riding. She will continue her education on an on-going basis to keep up on new information and techniques in this fast growing Therapeutic field so that she can be the best therapist possible for our four legged friends.
It is her mission to help as many horses as possible to become free of pain, feel great, be happy, healthy and perform at their fullest potential in addition to educating all those who love and care for them.
She hopes to meet you and your horse one day soon! She is located in Allegany, NY known as the Southern Tier in Upstate NY. She is willing to travel.