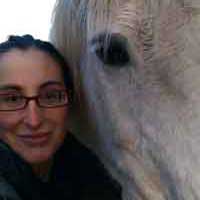 Tamsin lives in the West of Cornwall, near Redruth and has 3 rescue ponies and a cat – also rescued.
Her connection with horses started at a young age as a child when she would sit on the local farm horse and be led around the fields. This experience led to riding and competing at local shows as a teenager on her own pony and then the horse.
She did this before going to university where life took a different direction. She took a long sabbatical from riding and taking care of horses to pursue other interests and travel abroad. However, during that time she was never far from horses and for a time became involved with the Riding for Disabled Association in Bristol: leading horses and assisting the riders.
Although she spent almost 20 years in a teaching and corporate world her love of horses never diminished and she came back to them through volunteering at a small local animal rescue center in 2005 and hasn't looked back since.
Her interest in equine therapy began when she bought two rescue ponies. The ponies had very complex needs. Tamsin's interest in Masterson Method started after witnessing first hand the positive effects on their physical and mental wellbeing when the method was performed on her horses. It reached the parts that conventional treatment alone couldn't touch. She then went onto attend a weekend course and certification course. The horses are now both doing well and enjoying life again. Tamsin still continues to use Masterson Method on her horses and now has another rescue pony that benefits from this bodywork.
Tamsin is keen to expand the use of Masterson Method techniques to other horses and educate the owners of its benefits in her area of the country. She would be able to travel to clients particularly in the West and mid Cornwall areas.