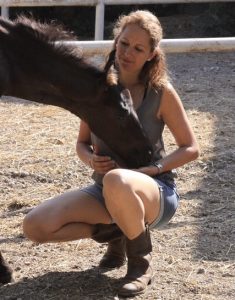 Tamara has been spending most of her free time with horses since she was 12 years old, first mainly for pleasure and later in dressage competitions up to M class. Since 2019 she is a certified riding instructor.
In 2017 Tamara decided to take a 2-month-break from her full-time Marketing job and travelled to Australia, where she did volunteer farm work. That's the first time she came across Jim Masterson, who held a weekend course exactly at the farm she was working on. As fate would have it, there was some flooding in the area preventing a few participants from coming and so she could spontaneously join the course with Jim. It didn't take the whole weekend to convince her that the Masterson Method® is something special and a fascinating way of communication between a horse and a human. What made her continue to become an MMCP was the softness of this bodywork and the fact, that this method is a way to work WITH the horse, not ON the horse, which can incredibly increase the well-being of and the relationship with a horse.
Tamara lives in the south of Vienna together with her husband and two little daughters.