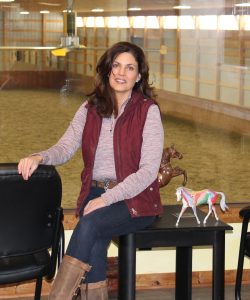 Suzanne Liscouski, owner and trainer of Briar Creek Farm in Virginia, grew up in the horse world the traditional way; pony club as a child and competing in local, state and regional hunter jumper events. A horse owner since the age of 10, Suzanne's life forever changed when she started her first colt with Ray Hunt in 1999. She was later honored to be Ray's European trip planner and translator. From those experiences in seeing the art of the possible, her methods and riding philosophy changed to focus on giving the horse a "better deal," as Ray taught. Suzanne continued to do clinics with Ray and likeminded horsemen focused on softness, lightness and connection.
Continuing her goal of seeking to best help horses in her care, she was thrilled to find the Masterson Method® helped her heart horse with a mystery hind end lameness and saw such a positive performance impact on others! The Masterson Method® clearly aligned with her search for relaxation and doing "less" while reading subtle cues and helping horses. Suzanne is focused on proper movement of both horse and rider as a student of pilates and several equine anatomy courses, including The Whole Horse Dissection Clinic with Ivana Ruddock, DVM, a second Dissection Clinic with Sharon May Davis, and Equinology 900 Anatomy in Clay. From colt starting and halter breaking wild horses in North Dakota to completing Instructors Courses with Charles de Kunffy, Suzanne believes in well-rounded horsemanship and gentle communication with horses.
In 2019, Suzanne traveled to Portugal to ride Lusitano Stallions with the famed Valença family in an intensive Dressage Instructors course. Suzanne believes it is a lifetime journey to constantly improve one's horsemanship and relationship with one's horse. Suzanne is featured in a short documentary about retraining ex-racehorses, which was featured at the Napa Valley Film Festival and the NY Equus film Festival https://vimeo.com/142725309. Upon seeing the impact Masterson Method® techniques had on horses in her training barn, she knew she needed to continue the path of softening, releasing and performing equine bodywork sessions via Masterson Method. She became a Masterson Method Certified Practitioner (MMCP) in January, 2023.
Suzanne has a B.A. from Sweet Briar College, an M.A. from American University, and was a Presidential Management Fellow prior to serving in executive leadership roles in both the Federal Government and in the IT Industry. Suzanne course designed curriculum and served as a 400 level instructor at the U.S. Air Force Academy and is a Harvard Senior Executive Fellow. She has now transitioned her teaching and leadership skills as consultant and instructor inside the horse world, helping owners and riders think differently, communicate gently, and excel with their horses.
Suzanne is fully committed to offering Masterson Method® sessions as a key tool in her toolbox for horse longevity, performance and optimal movement. She feels the Masterson Method® techniques have been a much needed and logical extension of the softness and communication she will continue to seek and hone in her lifetime horsemanship journey. Suzanne serves northern Virginia and surrounding areas.