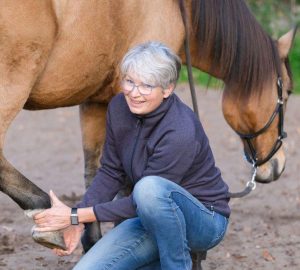 Pferde und Hunde begleiten mich seit meiner Kindheit. Sie "nur" zu lieben war mir jedoch nie genug. Ich wollte immer schon mehr wissen über Reiten, Training, Biomechanik, Gesundheit, Hufe und vor allem Beziehung. Wie kommunizieren Tiere untereinander? Wie kommunizieren sie mit uns? Was können wir daraus lernen? Wie können wir eine glückliche Partnerschaft aufbauen?
Als ich den Masterson Method® Wochenend-Kurs besuchte, wusste ich: "Hier finden meine Fragen Antworten". So begann meine Reise zum zertifizierten Masterson Method Practitioner.  Ich habe gelernt, auf kleinste Reaktion des Pferdes zu achten. Ich habe gelernt, Pferden mit leichten Berührungen und sanfter Mobilisierung mentale und physische Verspannungen zu lösen. Ich habe gelernt, dass die Masterson Method® hilft – oft mehr als ich erwartet habe.
Seitdem habe ich auch meine Art mit Pferden zu arbeiten geändert. Meine reiterliche Heimat habe ich vor Jahren in der Akademischen Reitkunst gefunden. Durch die Masterson Methode verstehe ich nun vieles besser, handle feiner, achte mehr auf die Antworten des Pferdes.
Ich erlebe, dass die Kombination von Training und Integrierter Körperarbeit noch mal ganz neue Möglichkeiten in Leistungsfähigkeit, Leistungsbereitschaft und Beziehung eröffnet.
Ich bin auch sehr gespannt, wohin die Reise der Masterson Method® für Hunde geht. Mit einigen Hunden habe ich bereits erfolgreich Körperarbeit gemacht. Es ist wunderbar, auch mit Hunden so unglaubliche Entwicklungen erleben zu dürfen.
Meine Passion ist es, Pferden und Hunden zu helfen und glückliche Besitzer zu erleben. Melden Sie sich gerne.
English:
Horses and dogs have accompanied me since my childhood. Just to love animals has never satisfied me. I have always been interested in riding, training, biomechanics, health, hoofs and above all relationship.  How do animals communicate with each other? How do they communicate with us? What can we learn about it? How can we build a happy partnership?
While attending the MM Weekend Clinic I knew at once: "Here my questions find answers!" So started my journey to become a Certified Masterson Method Practitioner.  I've learned to notice the horse's smallest reaction. I have learned to release physical and mental tension with soft touch and gentle movement. I have learned that the Masterson Method's help – often more than I expected.
And more than that, it changed my way of working with horses. The Academic Art Of Riding has become my "rider's home" for years. The Masterson Method® made me understand better, act in a finer way, and pay much better attention to the horse's answers. I really believe in the combination of training and integrated bodywork. It offers new possibilities of performance, readiness, and relation.
I'm also excited to see how the Masterson Method® for dogs will turn out. With some dogs my bodywork has already been successful. It's amazing to experience also with dogs such unbelievable developments.
My passion is helping horses and dogs and making their owners happy. Feel free to contact me.