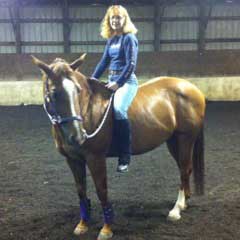 My interest in horses started at a young age. I learned how to ride on my cousin's Welsh ponies in a western saddle. After moving to south Florida, I continued to ride by taking jump lessons on retired show horses at a grand prix barn.
Career and kids took me away from horses for several years. Later I returned to my love of horses, at a hunter jumper barn. There I resumed riding lessons and purchased a chestnut mare. I have recently changed my riding discipline to dressage.
My interest with equine bodywork started with my chestnut mare as soundness became an issue. I attended seminars on lameness and saddle fitting. I have found being a Masterson Method Certified Practitioner has been a rewarding experience, when seeing how effective this bodywork can be in the performance horse.