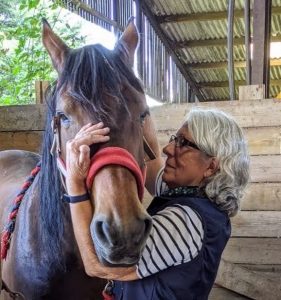 Sue first heard about The Masterson Method® whilst studying for a diploma in Equine Sports Massage Therapy.  She bought the Beyond Horse Massage book and was hooked almost from page one!
Her Shire X mare Moll was the first horse she practiced the techniques on and the results really spoke for themselves. Moll loves her MM sessions!  Sue was impressed by how gentle the techniques are and how quietly you work with the horse to achieve the most profound releases.  She also loved the fact that you can influence the muscles and other structures in the horse that you can't physically touch with conventional massage.  Eighteen months after attending a weekend seminar, Sue is proud to be a Masterson Method® Certified Practitioner.
Sue lives in north Cambridgeshire but will happily travel to neighbouring counties and beyond for group bookings.  She is also more than happy to arrange a demo at your yard if there is interest in learning more about how The Masterson Method® can help you and your horse.