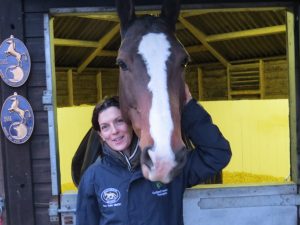 Under the name of "Guilded Essential Therapies" Sue works holistically as an equine therapist. Sue has a Reiki Master Practitioner qualification in advanced healing techniques. She also trained at the Ingraham Academy of Applied Zoopharmacognosy, a method that facilitates animals to self-select as they would do in the wild to maintain well-being. As part of this applied behavior method, Sue works with plant materials including essential oils and teaches the method as part of The Herbal Choices Course based on Jo Rose Therapies in Oxfordshire.
In her quest to further her knowledge and education, Sue was introduced to The Masterson Method® which matched the way in which Sue was already working with horses, reading their responses and body language and working with them to improve well-being and performance. Having watched Jim Masterson work and observe the responses and results he achieves, Sue felt this method was more powerful and effective than other equine bodywork methods she had studied and observed and so began the lengthy and thorough certification process. Sue is proud to be a Masterson Method Certified Practitioner and enjoys working with horses and owners competing in all disciplines, whatever the level.
Sue rides and competes at County Level Showing riding side saddle and owns a prolific winning Maxi Cob Show Horse named Tank Top also known as "Tommy" who was originally a client! Sue and Tommy qualified in the Ladies Show Horse Side Saddle Class at Horse of the Year Show (HOYS) in 2016, becoming the first-ever Show Cob to be awarded under side saddle at top level. Sue is confident that The Masterson Method has improved Tommy's performance and taken their relationship to a deeper level.