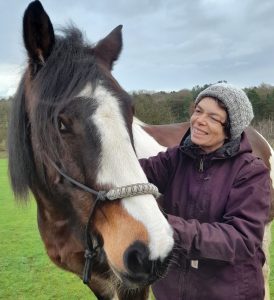 Steph was a pony mad child but only achieved her dream of owning a horse once her youngest child started school. A string of horses followed, all of which are still a part of her family. Each horse that has found its way to Steph has brought a new challenge and an opportunity to learn. An unhandled Dartmoor Hill pony started Steph's interest in natural horsemanship – it was at this point that she realised the best teacher was the horse itself and if we just slow down and listen, we learn so much more.
It was Zara, a beautiful Dales mare, who had lived a tough life, that led Steph to the Masterson Method®. Zara responded badly to conventional bodywork methods and Steph began to look for an alternative. The quiet, gentle, horse led nature of the Masterson Method® fitted perfectly with Steph's horsemanship ethos and most importantly, Zara responded well. The results spoke for themselves, Zara and Steph were hooked!
Having certified as a practitioner Steph continues to develop her bodywork skills as well as expanding her knowledge in equine rehabilitation and nutrition. She is also registered with the International Association of Animal Therapists (IAAT).
Steph is based in Matlock, Derbyshire, UK but is happy to travel. Feel free to contact her for further information about the Masterson Method® or to arrange a session.
Facebook      Steph Lockwood Equine Bodywork