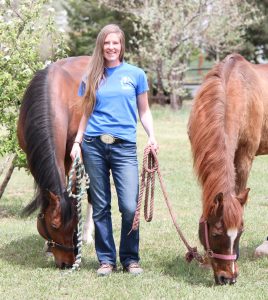 Sharon is fortunate to have been a student of the horse for over 30 years, and has worked professionally in the equine industry in a variety of roles since 2002. She followed her passion to find her purpose and now thrives on working for the good of the horse.
She discovered the Masterson Method® in 2013 and became addicted to sharing what she was learning with her own horses. She then began working with the therapy horses at her EAAT program and knew she had to keep learning more and sharing the Masterson Method with as many horses as possible!  Now, in addition to straightforward bodywork appointments, Sharon uses the Masterson Method® in training sessions to help formerly abused, neglected, and traumatized horses reset their nervous systems. She's found that incorporating MM techniques into training helps these horses relax and let go of their past, find comfort, feel safe, seen, and heard, build trust, and move forward on a positive path.
In addition to being an MMCP and MMES, she is also a Reach Out To Horses Certified Trainer, a Certified Equine Ergonomist through Saddlefit4Life, and a LANTRA Accredited Bit and Bridle Fitting Consultant through Horse Bit Fit Academy. Bringing all these pieces together gives Sharon the opportunity to provide a whole-horse, holistic service for her horse and human clients in the Denver Metro Area.