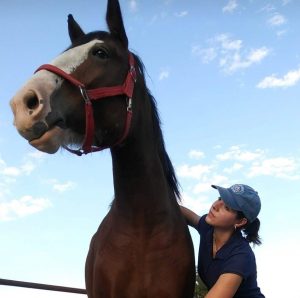 Shanell Thomas is the owner of Optimized Equine Wellness LLC. A lifelong horsewoman, she began her riding and showing career at the age of seven. Often when other kids were having sleepovers or attending parties Shanell chose to read her equine medical books instead. A huge collection of Breyer model horses and hundreds of equine training and medical books later she opened a training and riding lesson business as an adult.
Over the years Shanell developed a love for not just working horses but a deep satisfaction in working with rescue and rehabilitation horses which she often found were labeled 'bad' or 'stubborn' as a result of trauma or discomfort. In order to help projects and rescues maintain optimum well-being and balance, Shanell began to study equine nutrition (cert. 2012), Masterson Method ® (cert. 2021), Kinesiology taping, and other holistic therapies. She believes strongly in building a horse/human connection, and utilizing The Masterson Method® is the most powerful way she has experienced to achieve this. Helping horses to release stress and pain using a non-invasive and pressure sensitive method.
Through Optimized Equine Wellness, Shanell brings her strong knowledge and training to the horse and its team of owner, trainer, farrier, veterinarian and other equine professionals. She is available to offer bodywork services & demonstrations at equine events throughout Illinois and the surrounding states.