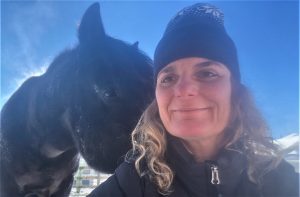 I was born and raised in The Netherlands and feel very fortunate to have grown up with graceful Lipizzaners at our family home. Through these earliest connections I came to appreciate that the wellness of horses and humans often, if not always, goes hand-in-hand.
As a child and teen I volunteered at our local barn to work in exchange for lessons and part of our job was to help groups of people with special needs enjoy connecting to and riding horses. The joy, enthusiasm and love for the horses that people experienced during these sessions has always stayed with me and I would like to contribute to creating similar experiences for others in the future.
After getting married and living around the globe for many years while raising our young family, we ended up in Canada in 2009. Horses soon found their way back into my life and I celebrated our decision to stay in Canada, by inviting two beautiful Andalusian geldings and two very cute cats into our family here.
While exploring a variety of modalities to support the well being of my horses, I came across The Masterson Method®. I loved the feeling of familiarity this method of equine body-work brought back into my life and decided to pursue certification.
Being able to gently get in touch with my horses, to listen to them in silence again and to share this safe space of compassion and kindness was what allowed me to get in touch with myself after the many years of caring for my family and moving home.
As I became certified as an MMCP, I became aware of the MMES specialization option and immediately knew this is what I wanted to do – to be able to make a difference by helping to  create the opportunity for others to experience this beautiful gift of compassionate giving, the gift of touching the horse.
I live and work in the Calgary area in Alberta, Canada. I offer my services to EAL and EFW providers in the region and am continuously learning and expanding my knowledge and skills to be of service in assisting wellness for both horses and humans.