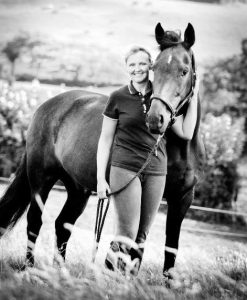 Sarah has always had a passion for horses, being involved with them for the majority of her life and previously enjoying competing in a variety of disciplines including British Dressage.
Sarah initially pursued a pathway of studying Biology, partly due to her interest in anatomy but also to explore the wider aspects of living organisms, resulting in the development of a comprehensive understanding of biological systems. Following this, and after spending time completing scientific research through a PhD, she shared her knowledge through teaching Biology. Sarah later combined her equine experience with her teaching and research experience, lecturing on Equine and Animal based Foundation and Bachelor of Science Degree courses and Masters Level in Equitation Science. She lectured on a range of equitation related topics; one of her key areas of focus being equine behaviour and how horses learn, and another focusing on ethical and sustainable equitation, incorporating the importance of considering the horse as a sentient being to ensure a positive effect on equine welfare.
Sarah has a particular interest in applying aspects of learning and behaviour with equine learning for welfare-based performance success, both ridden and handling. She is focused on 'horse needs' led training, and is always striving to consider the subtle signals that horses exhibit, and incorporating these when working with them. She feels that observing, listening and responding to these signals contributes to a positive horse-human relationship; a vital aspect to consider when working with horses.
Sarah enjoys how the Masterson Method® technique enables her to work with the horse, taking their responses into account during bodywork sessions. She feels that it is a privilege to be able to work with horses; always striving to listen to them, and enjoying how each horse is an individual and taking this into account during the bodywork.
Sarah is based in Devon but she is also able to work with horses in Cornwall due to being near the Cornwall-Devon border.