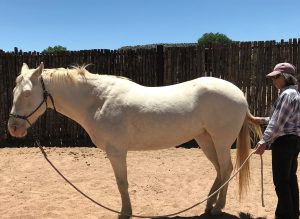 Sandy Benson started with horses as a child, riding hunter/jumpers in Minnesota. Her involvement with riding continued through college but as an adult her life sent her in other directions such as working in the US Senate, teaching English in Tibet/India and performing as a modern dancer in NYC. It wasn't until years later when she landed in New Mexico that she had the good fortune to rekindle her equine connection.
Working on a small ranch, basically starting over with horses but now in the western tradition, she was captivated by the learning that takes place within the partnership between horse and rider. During that time a friend introduced her to equine bodywork system called Reflex Balancing. Over the next years in Santa Fe, NM she sponsored clinics in this method, taught horsemanship and certified as a human cranial/sacral therapist. It was when she fulfilled a life-long dream of owning her own horse that she started a deeper exploration into equine bodywork and landed on Jim's website. She was intrigued by his gentle touch, humor and whole-body approach to relaxing the horse.
Fast forward a few years and in 2018 she became the first MMCP in New Mexico.  Her practice blends working to release all types of tension along with providing information on specifically designed movement and bodywork methods the owner can do to continue the healing process between sessions. She's inspired by how this light-touch work supports the horse's natural ability to blossom in its expression and movement. She feels it's an honor to work with a method dedicated to restoring balance for the horse and rider on all levels.
Sandy primarily works in the Albuquerque/Santa Fe area.