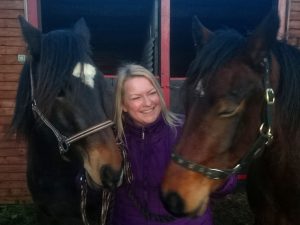 Sam's love affair with horses started at a young age helping care for retired shires on her grandfathers farm. His relationship with the aged gentle giants was calm and mutually respectful and fed Sam's early desire to really understand these intelligent animals.
At the age of eight, Sam's non-horsey parents allowed her to spend every Saturday at a local stables grooming, mucking out and tacking up in return for rides (no doubt hoping it would rid her obsession). A year on, her dedication convinced them to buy her a pony…so arrived a green, completely unsuitable 5 year old fiery Welsh mare! This challenging little mare and her next few cheap and cheerful steeds taught Sam many lessons which put her on the path to spend her late teenage years and 20's starting young horses and taking on 'problem' horses to turn around, mostly with success…and just a few bruises. Having fun was competing in showjumping, XC and one-day events but handling and building trust with troubled horses grew to become her real passion.
Working as a veterinary nurse also gave her contact with the competitive horse world and in 1996 after losing her grandfather, her desire to find another 'enlightened' role model led her to buying a book written by Monty Roberts and undertaking workshops and training in equine behaviour and horsemanship. A stint as assistant to a Western riding demo act gave her a hands-on insight into the world of Western riding, and the emerging 'natural horsemanship' scene.
15 years on, after spending some years in a 'proper job' (her parents words!) as a government project manager in the EU, Sam settled back in North Wales and was again tempted to helping horses that no-one really wanted, this time buying an angry ex eventer at market, a young draught horse and a couple of unhandled colts.
A conversation with a chiropractor treating the eventer, using the Masterson Method®, (and seeing surprisingly big improvements in the mare) made her think about training as an equine massage therapist. By chance, weeks later Jim Masterson gave a talk at Your Horse Live and soon the learning journey started, at a Masterson Method weekend course for owners.
Seeing the results on the practice horses and applying the techniques to her own horses convinced Sam she'd found something special…so the inevitable journey to becoming a certified practitioner was embarked upon. "I'm still surprised, even years on from starting with Masterson, at the improvements we see in horses when using this gentle method. Whether serious athletes in training or weekend happy hackers, they seem to really enjoy this lighter than light experience. But it can make real physical and mental changes in them for the better and for me helping them in this way is the best reward"
Now treating horses around North Wales, Cheshire, Wirral, and North West England, and sometimes traveling further afield, Sam says "The Masterson Method is such an effective, whole horse approach to improving a horse's athleticism, physical and emotional well being".
"It works in synergy with our equines (rather than 'doing to' them), and I often find the gentleness of it can help improve trust. A relaxed, happy, healthy horse is key to good performance and a successful horse/rider partnership. So that's my main aim, no matter what the horse's job"