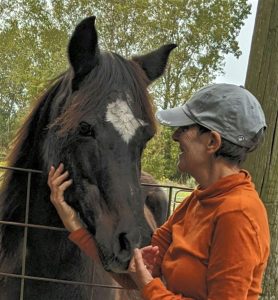 Like many five-year-old girls, at the first "nuzzle from a muzzle," a part of my heart forever 'became equine.' Those first loves plant deeply in our souls. While life moved fast with careers outside of the horse world, in each season I knew rest existed in the company of these majestic animals. After my beloved husband died in 2019, God nudged me back to the barn in a serious way.  Within minutes of seeing a practitioner work on my wonderful OTTB, I was hooked on the Masterson Method® as a perfect fit for me. Having been trained as an observer in three professions, I immediately resonated to the extensive and demanding training required to become an MMCP, and then to the Masterson dance:  Inquire, observe, and follow the horse's signals to find and 'oh so gently' address stored tension, restrictions, and problematic muscle memories. In this dance, the horse leads (distinguishing this bodywork modality from others), by guiding me to its needs through the tiniest of physical clues and responses to interventions.  Masterson Method® techniques allow me gently into the horse's realm, where, for example, a slight adjustment in hand width or finger pressure on the cervical spine can unlock restrictions set in for years.  As clients say in amazement, "That's incredible!"  My business name, "CloudNine-Equine," catches the experience precisely.  I'm blessed each time that I interact with a horse via Masterson!
I also have a thorough-going respect for wonderful owners who want the best for their horses, whether it's working on a performance issue, or a mystery lameness, or simply a 'spa day of feel goods' for a 4-legged buddy.  What you have to say matters to me.  I'm a trained listener, to people as well as horses.
Let's talk about your buddy or your herd. What are you seeing and feeling, and how can we investigate then apply the Masterson Method® for terrific outcomes?  I look forward to talking with you.