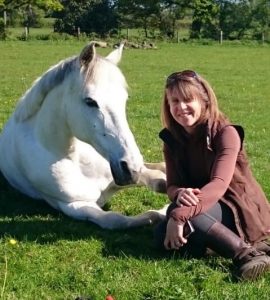 Ruth has had a love of horses from a very early age and rode competitively as a child both side saddle and astride. She trained as a BHSAI and worked as a groom for hunters and eventers and as an instructor before retraining as a nurse.
She continued to teach part-time and became very interested in rider biomechanics and centered riding techniques. Taking on a mare with physical and emotional issues led her to explore natural horsemanship techniques. This made her understand just how sensitive horses can be and how easy it can be to misinterpret their attempts to tell us they are in pain and discomfort.
Already a human lymphatic massage therapist, she trained as an equine sports massage therapist however she always felt that she was doing to the horse rather than working with them as she liked to do when she trained, but after a longstanding shoulder, injury and subsequent surgery left her with limited movement she was recommended somatic movement by a friend. Like Masterson this allowed her to understand how to release the tension in her own body in order to increase movement. This worked so well on her own body when she tried out the 2 day Masterson weekend she was totally hooked!
Ruth loves the way the Masterson ethos of reading the horse and allowing them to find and release in their bodies fits in perfectly with the way she trains and teaches horsemanship.
Her focus now in on bodywork first as she has found that so many times a training issue is actually the horse trying to tell us they are in discomfort in the only way they know how!
Facebook page:  https://www.facebook.com/wharfedaleequinetherapy/