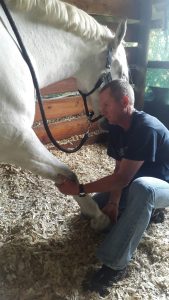 Rob grew up on a small holding in the farming community of Stutterheim in the Eastern Cape, South Africa, and grew up riding horses from a very young age. His best was coming home from school to saddle up the horses and ride up into the forests of the Amatola Mountain. Robs love for animals and horses has stayed with him throughout and he has continued to ride at every available opportunity.
Going into an Engineering background when leaving school, Rob then went on to successfully race 250cc circuit motorcycles for a number of years until a severe crash ended his time on the bike. Rob then moved into the 4 wheel motorsport arena heading up both Ford Motorsport SA and BMW Motorsport SA before moving on to BMW Motorcycle division in early 2002 where he again took up racing.
Rob's life took a dramatic change in 2009 when he met his now wife, Chantal who is a qualified human physiotherapist (she used to put him back together when he crashed racing) who had made the crossover to animal and equine physio. Chantal did her two day and five day training under Jim at Red Barn, Stanford, USA in early 2010 and on returning to SA showed the method to Rob. He then spent a long apprenticeship under Chantal learning the skills of Equine Massage and Bodywork incorporating Masterson Method® and went on to do T Touch under Canadian trainer Edie-Jane Eaton thereafter adding further modalities such as Equine Kinesiology Taping, Equine Equissage, Photizo, Ultrasound, Faradic and later Thermal Imaging to his toolbox.
Rob then worked alongside Chantal on weekends assisting with the treatment and prep of horses for shows within South Africa. In 2013 Rob took the decision to leave the corporate world in his position as GM of BMW Motorcycles SA and guest GM on the BMW Board and form an on-line company along with Chantal, called EarthEco Essentials (Pty) Ltd that specialised in a range of 100% natural products for humans, animals and horses. They have now developed their own supplement range for pets and sport horses. This also allowed Rob to follow his dream of treating horses full time and in doing so, opened a sub division of EarthEco called EarthEco Equine Services.
Rob also took this as an opportunity to work towards his Masterson Method Certified Practitioner qualification and achieved this in the UK in May 2016 adding to the On-Line two day Masterson Method course, Equine Anatomy for sport horse (USA), Two day Masterson weekend seminar and five day Masterson Advanced course held in Sydney, Australia.
Currently Rob and his wife Chantal work together on most days treating and preparing top end show jumping horses, traveling to all major show jumping events throughout SA with the horses as well as treating and maintain the majority of the FEI World Cup Qualifier horses and traveling with the teams to the FEI events in SA.