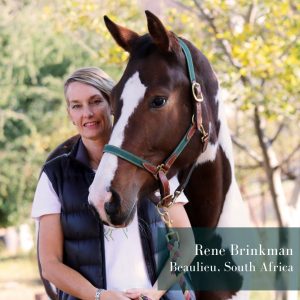 Rene is an accomplished horsewoman who has been involved with horses all her life. She has competed successfully at a high level in a wide range of riding disciplines, including Eventing, Dressage, Show Jumping, Showing, Carriage Driving and Cowboy Dressage. She has had the privilege of training with a large assortment of international instructors during the past 25 years including a top Canadian Western Coach to further broaden her riding base.
After obtaining her qualifications in Stud Management at the Tshwane University of Technology in 1990 Rene worked in management positions on Thoroughbred stud farms in Kwazulu Natal till she met her future husband in 2006. Rene and John then moved to the epicenter of the South African Horse world in Beaulieu, Kyalami and together formed Holeshot Stud breeding Warmblood sport horses and started their own family. Rene enjoyed backing and bringing on the Holeshot youngsters in-between furthering her skills in the corporate business world.
Rene has worked with a variety of different approaches and methods from Classical, Traditional, Natural Horsemanship, Clicker training and also T-Touch.
After being very impressed when witnessing the effects of The Masterson Method during a clinic with Richard Maxwell she then turned to the MM book and signed up for the online home study course to help one of her horses when the mare got injured in a Jumping competition. The method and results were so successful on that horse and her other competition horses that she decided to become certified as a Masterson Practitioner, (a process she completed in May 2016 under the mentorship of Diane Howard), and return full time to working with horses because she finds being able to improve the wellbeing of horses so rewarding and loves knowing that she is making a positive difference in their lives.
Rene also has an internationally recognised Equestrian Coaching qualification with EQUASA (Equestrian Qualifications Authority of South Africa) and as a member of CEEPSA (Council of Equine and Equestrian Professionals of South Africa), she stays up to date with current equestrian affairs by attending regular seminars and training clinics, she also regularly volunteers at shows when she is not competing. Rene is currently competing at Advanced Level Dressage on one of her Holeshot horses that she bred, raised and has schooled up to that level herself and is also busy bringing one of her other homebred mares up through the Eventing levels.
Instagram: https://www.instagram.com/rene_holeshot/