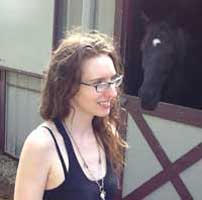 I did not grow up in a horse family. Nor did I have friends with horses. But my father and I shared a compassionate understanding of them and a longing to be near them. I did my best to find riding opportunities but was often disappointed by the sense that the animals were in varying degrees of unease or discomfort. I was most unhappy with the idea of taking so much from them and not really knowing how to give back.
A short few years ago I was suddenly struck hard with the realization that I had to get horses into my life, big, and that I had to find a way that was right for me. I discovered Linda Kohanov's books on Equine Facilitated Psychotherapy and was enthralled to find that there are pioneers out there exploring the wide-open potential of the horse-human relationship. I went to Linda's Epona Ranch in Arizona for two of her exhilarating workshops, where we learned reflective round pin work and 'dancing' with horses.
Upon returning to Iowa, I chatted in a waiting line with an old friend who asked me if I'd heard about Jim Masterson and his work. I had not but it sounded right up my alley. I went home and looked up the website, then almost immediately signed up for the weekend and the five-day course. I had finally found my way into the world of horses, with exactly the compassion and relationship building tools I had been dreaming of.
I was honored to complete my last block of Certification Course studies at Serenity Farms in Coatesville, IN, under the tutelage of USDF Bronze Medalist and Masterson Method Certified Practitioner and Instructor, Coralie Hughes. The Masterson Method® has given me the opportunity to discover that fine line between telling and asking a horse what to do. And it is most gratifying to receive a personal 'thank you' from an equine athlete, during and after our session.
Rachael Wendell is a new Masterson Method Certified Practitioner. Learning The Masterson Method® has enabled her to cultivate the keen ability to find what horses need and to effectively get them through resistances.