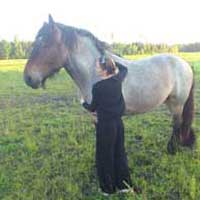 Pernille grew up in Denmark and has always been around animals and enjoyed their company. She started riding at an early age, mainly riding for pleasure.
She has always been passionate about animals and animal welfare, and when looking into possible future careers, she found out that qualifying as a human physiotherapist could take her into the exciting world of high level veterinary physiotherapy, and thereby being able to help improve animals' quality of life. In 2009, she got her Bachelor Degree in Human Physiotherapy from VIA University College in Aarhus, Denmark. Then, in 2012, she achieved a Master of Science in Veterinary Physiotherapy from The Royal Veterinary College in London, England, and is now the only physiotherapist in Denmark holding this degree.
While doing her MSc degree, she looked for further ways to work with animals. "When I found Jim's website, I knew that I had found what I was looking for! The Masterson Method ™ has been a great complement to the veterinary physiotherapy work. It has provided further tools to release tension in the horses' bodies, and has improved the understanding of horse behavior and how to use the behavior and responses of the horses when working with them."
Pernille is based in Denmark and mainly works with horses, dogs, cats and humans. Assessment and treatment of other animals can be arranged, as can travelling to other countries.