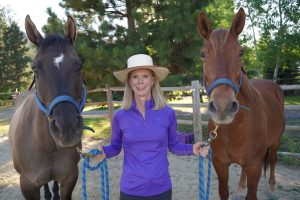 Horses have been a part of my life since I was a very little girl that wandered away from our yard to go down the street where a breeder of amazing Arabian horses had several pastured.  I only wanted to be with them and I waited outside the fence line until they would get curious and come see me.  I learned to ride jumpers as a young girl and my first horse came to me when I was 12 and she was 7 and we did 4H and local shows riding English and Western and lots of crazy fun things that young girls do with their horses. I was fortunate to have gotten a sweet filly from my mare that spent her entire 25 years of life with me. I do so wish that I could have given them the Masterson gift!
While always riding in my free time, I spent most of my career as a collateral auditor in banking. This work tuned me in closely to listening to people and reading what they were trying to tell me through their words and body language as I toured facilities and examined records and spoke to owners, executives and employees in all types of businesses. I learned to look deeper and not simply accept the first explanation given as to why there might be a problem or where it may be. This skill set translates so well to the work I do with the horses as I seek to understand and read their body language and what they are telling me as we work together. Curiosity is key. I've become a bit of an anatomy geek and will always be a humble student of the horse.
I discovered Masterson Method® in a book written by Mark Rashid as I was looking to find a better connection with a gelding I own that had come out of difficult situation. After studying the Masterson website and watching lots of Jim's videos I asked for the BHM book and DVD for Christmas. I experimented with my 2 horses and saw the amazing benefits. I then began down the path of Masterson study through the weekend course, 5-day, fieldwork and certification as a MMCP in 2023 and it's been a fascinating beginning to this ride!
Along with being an avid mountain trail rider, I am venturing into working equitation with my own horses and I live in an area with horses that compete in dressage, eventing, reining, rodeo events, as well as trail horses and mustangs from the BLM corrals we have locally. There are lots of hunting/pack animals that head deep into the mountains and work hard for a few weeks each year. I've been amazed at how the Masterson work speaks to every horse in some significant way for that animal on that day, no matter what their job is and it is so incredible to be a part of that!
My business, Touch-N-Go Equine Performance Bodywork, LLC serves Boise and the Treasure Valley and surrounding areas in Idaho. Travel to other areas can be arranged as well.