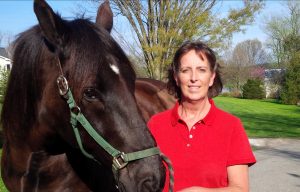 Patty started riding with her first horse, a retired western playday horse who taught her more about riding than all the lessons she had as a kid. That mare could start fast, stop faster, and change direction before you saw it coming. Later, when just starting college, Patty bought a just-gelded, unbroken 3 y.o. Arabian colt, about 2 weeks before telling her parents. The current love of her life, a Spanish Norman, is teaching her about the awesome power and sensitivity of horses. He's been her partner for dressage, fox chasing, hunter pace, trail riding, and now Masterson Method body work and studies in training based on the biomechanics of movement.
The Masterson Method techniques are excellent for performance and behavioral issues and also helping to develop horses starting on new careers. The changes she sees in horses from applying the very gentle, light-touch hands-on Masterson techniques are truly extraordinary.
Patty believes in the benefits of a team approach that involves coordination between owner, trainer, veterinarian, farrier, dentist, and body workers. And, she says, it just keeps getting better. She believes that the best way to help our horses is to never stop learning.