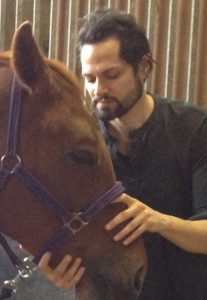 Combining human physiotherapy and equine bodywork, Orson brings a scientific and intuitive understanding of both humans and horses.
Orson was drawn to the Masterson Method because he values the sensitive interaction with the horse's nervous system and emphasis on communication. With the horse as an active participant, treatment is directed by the horse's responses and brings both physical and psychological benefits.
He has had success working with horses from various disciplines – supporting racehorses returning after injury, improving performance in dressage, show-jumping and general leisure horses.
Orson has a special interest in working with the rider and horse together, to improve performance, teamwork, and enjoyment for both. Movement limitations in either the horse or the rider can impact their performance as a team.