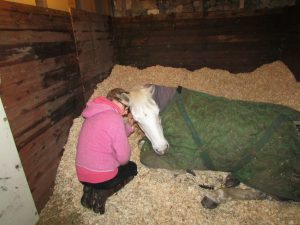 Nikki lives on the edge of Dartmoor in Devon with her husband two young sons, two Labradors, horse and other furry creatures (the list is endless).
Nikki has spent her life around horses and feels she has a good 'feel' and ability to connect with them.
Starting in the pony club she continued over the years to compete mainly in O.D.E and S.J until starting a family, however she couldn't give up the horses and continued to ride and work with them whenever family commitments allowed.
Nikki previously worked in race horse and S.J rehabilitation yards where her bond and love for helping horses grew.
After Nikki's youngest son started school she knew she wanted to work with horses in a job where she could really make a difference and give back a little of what they had given her over the years.
After attending a Masterson Method introductory day in Devon she was hooked, she knew that becoming a Masterson Method Practitioner was the job she had been waiting for for so long. The difference it made to Nikki's 20 yr old mare after just one introductory session was amazing she felt younger, looser in her movement almost like she had springs on her feet and a new lease of life. Nikki wanted to help other horses feel as good.