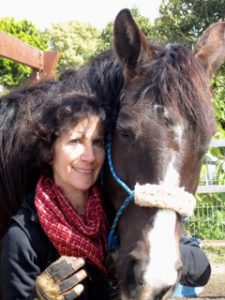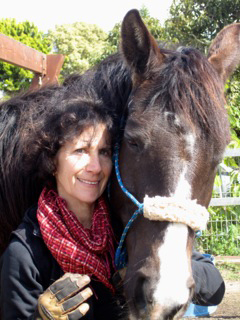 Nikki Kagan became a MM practitioner some years ago after completing certifications in both Equine acupressure and Reiki because she learned how effective The Masterson Method® (MM) is in helping the horse's nervous system "reboot" and release body-held patterns of stress, habitual defensive movement cycles (that can cause resistance and stiffness) and trauma muscle memory. What's more, she finds that the MM approach to bodywork is not only effective, it is both respectful and gentle because it changes and heals restrictions and movement limitations from the inside out with lasting results. The fundamental difference between this method and other modalities is the role the horse plays in his own treatment. Through his responses, he guides the process of non-invasive touch and gentle movements– safe in knowing that he gets to dictate how much is enough.
The Masterson Method perfectly aligns with Nikki's approach to interacting with horses, since this approach only works when we create opportunities for the horse to "show" us what he is experiencing in the moment so we can respond appropriately.
She spends her "horse-time" playing with her own small herd at liberty to encourage their self-expression.  Her horses are also equine facilitators in her Equine Assisted Leadership Development programs, and has been known to teach some of her corporate clients a technique or two, simply to help them understand how to pay closer attention to and relate to others.