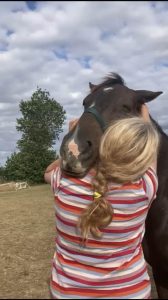 Hi, my name is Niki Barker and as a fully trained Masterson Method Certified Practitioner I cover Suffolk, Norfolk and Cambridgeshire areas.
I have owned horses all my life and in my early career worked as a groom/rider both in the UK and abroad. As is often the case I eventually found myself away from horses with a career working for an international shipping firm. Still, always having my own horses has meant I have kept my hand in the industry and enjoyed regularly competing at many different disciplines but getting real enjoyment and success from dressage. In my own time I trained as an Equine massage therapist and would use the weekends to offer appointments to my clients. At a similar time I also started and completed my training to become a British Dressage Listed judge. I have found this hugely rewarding and it is great for cementing the fundamental principles of correct equine movement which then easily translates into any therapy work.    
I discovered The Masterson Method® by chance and instantly saw the appeal and benefits it offered. Since starting my training 2 years ago I have built up a firm client base and I am now working full time as a practitioner. I work on a whole range of horses and ponies from those competing regularly at a high level in a variety of disciplines, to those enjoying the quieter life of retirement and all in between. It is incredible to witness the horse's response to the treatment and how this continues to progress on subsequent visits. It brings me such pleasure to help horses feel better within themselves so they can lead more comfortable day to day lives.