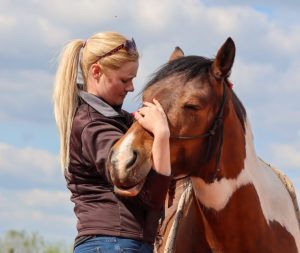 I have been a horsemanship trainer and instructor for many years now and it is truly my passion to help people and their horses understand each other, and build a lasting relationship based on trust and connection. As my knowledge grew, I realized I was missing a key part of the puzzle, not only is it important to release the horse's mental tension, but their physical tension too.
After attending a three-day clinic with Jim Masterson and Mark Rashid I came away eager to learn more, and signed up for the two-day course. From there I knew this was something I wanted to bring into my professional career.
I am now excited to offer both bodywork and horsemanship, separately or alongside each other, to help my clients and their horses with their individual needs.
I cover areas within an hour of my base in Rushden, Northamptonshire but I often travel to other locations around the UK for a day or two at a time. Please check my Facebook page for details or contact me to organize one for yourself!