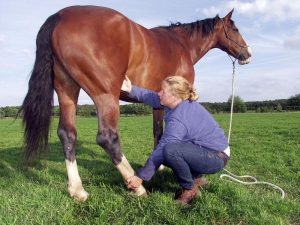 Just like every young girl Monique started at a regional riding school, after 'the basic' riding Monique trains difficult horses because her parents were not able to buy her her own horse.
Even she was a young girl, Monique was surprised why some horses weren't able to walk normal, without pain or stress. Despite her young age she uses her hands to let horses relax and talking in silence with horses, as a result, horses want to work for her and with her. This is a quality she uses every day with horses and other animals.
While searching for more knowledge in a local book shop, Monique discovered The Beyond Horse Massage DVD. After practicing a few of The Masterson Method techniques on her horse, Monique was able to quickly see visible results; Jim asked Monique to become a practitioner in her early days when there were no practitioners in the Netherlands.
Monique is trained in several modalities including para-veterinarian, acupressure for horses, horse sports massage and stretching, natural veterinary advisor including homeopathy, TCM, phytotherapy, aromatherapy, and Reiki Master, animal communication, craniosacral therapy, lymphatic drainage and MM practitioner of course.