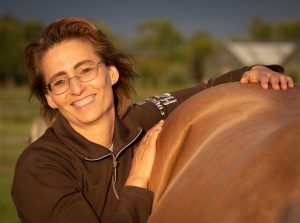 Na een aantal jaren mijn AQHA-merrie te hebben gereden in westernrijwedstrijden met zelfs een paar nationale kampioenschapstitels als gevolg, begon mijn paardje medio 2016 te kreupelen. Uiteindelijk gediagnosticeerd met hoefkatrol, begonnen we het proces om elke mogelijke oplossing te vinden voor dit probleem. Na de traditionele behandelingen, die niet echt (b)leken te helpen, paste mijn voormalige instructrice, enkele Masterson technieken toe op mijn paard. Die liet daardoor zo'n enorme spanning los, dat ik verbijsterd was. Toevallig werd er in juli 2018 vlakbij een weekend workshop georganiseerd. Ik deed mee en was verslaafd. Nu zeg ik dat mijn paard me naar de Masterson-methode heeft geleid om haar te helpen met haar compensatie problemen, en helpen doet het zeker weten!
Om uiteindelijk een gecertificeerde beoefenaar te worden was een persoonlijke reis op zichzelf. Voor een penny meisje dat als beroep de hele dag achter een computer zit om getallen op te tellen, was het een enorme leerervaring. Het was een ​​kinderdroom die in vervulling ging om een-soort-van-dr-Dolittle te worden en paarden te kunnen helpen zich beter te doen voelen. En ik heb van iedere stap genoten. Woorden kunnen niet beschrijven hoe dankbaar ik ben om deel te mogen uitmaken van de geweldige Masterson Method Family !
Ik denk dat de Masterson Method de beste technieken uit de verschillende modaliteiten voor lichaamswerk voor paarden biedt en dat deze gecombineerd meer zijn dan de som van de individuele technieken. Het blijft verbazingwekkend wat de soms zo simpel lijkende technieken aan impact op het welzijn van het paard hebben.
Ik ben ook van mening dat elke paardeneigenaar zou moeten weten hoe hij de Blaas Meridiaan Techniek bij zijn paard kan doen om hem te helpen spanningen in zijn lichaam en geest los te laten.
Dus ga ik "onwards and upwards" door, voor het welzijn van zo veel mogelijk paarden !
English:
After several years riding my AQHA mare in western riding competitions with even a few national championship titles as a result, my horse started laming mid-2016. Eventually diagnosed with navicular disease, we started the process of finding every possible solution to this issue. After the traditional treatments, which did not seem to help much, my former instructor applied some Masterson techniques on her and my horse showed such huge releases, that I was flabbergasted. By chance, a weekend workshop was organized nearby in July 2018. I attended and was hooked. Now I say my horse has led me to The Masterson Method® to help her with her compensation issues, and that it does!
To eventually become a certified practitioner was a personal journey in itself. For a non-professional horse loving girl who spends all day sitting in front of a computer counting numbers as a profession, it was a huge learning experience. It was a childhood dream come true to become a-kind-of-Dr-Dolittle and to be able to help horses to feel better. I enjoyed every step of the way. Words can't describe how grateful I am to be a part of the wonderful Masterson Method® Family!
I think The Masterson Method® offers the best part of the different bodywork modalities techniques for horses and that these combined are more than the sum of the individual techniques.  It remains astonishing what a huge impact the sometimes seemingly simple techniques have on the well-being of the horse.  And I am also of the opinion that every horse owner should know how to do the Bladder Meridian Technique with his horse to help him resolve tension in his body and mind.
So onwards and upwards I go, for the well-being of as many horses as possible!