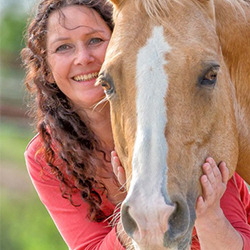 Since an early age Monika has been riding horses and she experienced her happiest times while going after her hobby, spending time with horses and in the stable. Later on she had the opportunity to train with the animals on a racecourse which were very sensitive and exuberant. A very high sensitivity was required for these horses. As she attended her first western show she realised that people were able to lead the horses completely without bridle over various obstacles. At that time she never thought that this would be possible with racing horses. And she was so fascinated by what she had seen that she wanted to learn this her own.
After finishing her sports-teacher school she found her passion in western horse riding. But sometimes she thought that the training was too harsh on the horse and there were a lot of unanswered questions. Most of these were later answered by horsemanship. Being sensitive and gentle is a great way for horse and human to get closer, understand each other better and be happier.
Monika successfully completed the Cranio Sacral Therapist training for human and horse in Austria. A main topic of this training was the energetic therapy for horses for health and wellbeing.
At a Masterson weekend seminar she saw the great success that could be achieved by this method and how good this therapy was for her mare. This fascinated her so much that she reached the level of Masterson practitioner in 2015.
It makes her happy that she can help horses in their mental and physical well being and send them with their rider on a better path.