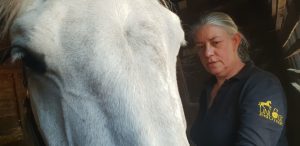 Moi's love of polo, developed during a 30-year Army career, led her on a journey of finding a non-invasive way of rehabilitating the equine athlete; seeking a way to work with the horse as an active partner rather than a passive subject. Using straightness training to rebalance and help strengthen horses after injury, Moi knew that there had to be a complimentary way to help the horse use its body correctly in rehabilitation.
In 2018, having seen a body work demonstration, Moi found Jim's videos on YouTube and signed up for a weekend seminar.  Being dedicated to science-based evidence, Moi then spent a year understanding how the equine bodywork she had seen worked, and why. She attended anatomical dissections, equine biomechanics and saddle fit courses and numerous conferences, finally deciding that the Masterson Method was exactly what she wanted to do.
Moi attained an MSc in Equine Behaviour, Training and Performance at Sparsholt College, University of Portsmouth in 2019 and is now training with Equitation Science International to add a horse behaviour based method of training to add to her body work services.