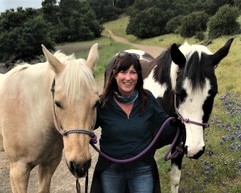 I started riding seriously at ten years old in Pony Club and 4H in Virginia.  I lived at the barn with an awesome gang of kids and crazy ponies. I bought a halter broke wild pony at eleven and took her to Pony Club which did not go over so well at first. My Dad got transferred and we trailered our ponies across country to California. I joined 4H and Pony Club in California as well. I bred paints as my 4H horse project. I raised and started several young horses in my teens. I have trained for eventing, competed in vaulting, A/O hunters and gymkhana. I dabble in trail obstacle and some ranch work for fun as well. My favorite thing to do though is take my horse out of the arena for a trail ride and see her ears perk up and her walk extend as we explore nature and forget our worries.
I am an active member of Novato Horseman's Association, a 4H Leader with the H Lane Vaqueros. I also teach at our Pony Club Riding Center. We host Project Hope, an EAGALA-based equine therapy program for veterans. I manage a herd of seventeen horses and ponies for our programs.
In my spare time, I work three days a week as a nurse for naturopathic doctors.
I went to my first CA horse Expo in 2017 looking for a horse trailer deal.  I noticed that there was a demo on equine performance body work that I wanted to watch. While watching the demo, I thought, "this is something I can do to keep my horses healthy!" I was working full time as a Registered Nurse in integrated medicine and up to my eyeballs finishing a Master Certification at the Academy of Intuition Medicine®, when I had an "aha moment!" I knew immediately, this was a level of communication I was missing with my horses.
I went to the booth after the demo and Jim Masterson came in and I remember telling him about my energy medicine studies and the connections I had been observing during the demo.
I decided to investigate further by purchasing the DVD and Beyond Horse Massage book, which I had Jim sign. I made plans to attend the 2-day training and was put on the waiting list initially. Fortunately, there was a last-minute opening and I began my 3-year journey to become a MMCP.
Many of our ponies are getting older and I wanted to be able to help keep them healthy and feeling good.  After attending the weekend seminar with Jim Masterson and Sandy Vreeburg, my confidence grew.  I continued practicing on the ponies and was seeing results.  The 4H group (9-18 yo.) became curious at what was happening to their ponies. When I started doing case studies on their ponies, they started noticing that their stubborn pony wasn't as cranky, they were bucking less and were starting to enjoy jumping again; the pony that was hard to bridle was starting to lower their head, now willingly accepting the bit.
For the last three years, I have been incorporating Masterson Method® into my riding program. Teaching the Bladder Meridian technique has been helping the children to understand their ponies' physical limitations and improve their communication with their mounts.  The bonds that they are creating are magical.
I heal people holistically for a living and now I have a way to heal my horses too. My goal is to teach everyone how sensitive the horses are and how we heal each other.