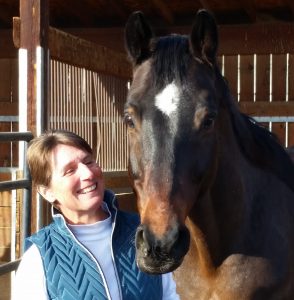 Like so many of us, Michelle first discovered horses as a child when her parents moved to the edge of a new subdivision and their house backed up to the original farm site, with horses just across the fence.  She was hooked, and the owner of the farm told her she couldn't feed the horses over the fence, but she'd teach her how to care for them if she came to do chores on the farm. That led to lessons, and a fun riding career in every discipline up through college, where she earned a minor in Equine Science along with her Computer Science and Business Administration majors.
Horses had to take a back seat for a time while she worked in the high tech industry, but she was able to start riding again in 2002, which led to becoming a certified Equine Sports Massage therapist in 2004 when wanting to help her hunter/jumper come back from an injury. Ten years later, while again searching for ways to help give back to the wonderful dressage horses in her life, she discovered The Masterson Method® and again was hooked. Her corporate career took over again for a while, but she knew what her second career would be, and after 2020 she made that dream come true, by retiring from high tech and working non-stop to become a Certified Practitioner.
She has already become part of the care team for many happy clients including dressage, hunter/jumper, reining and endurance riders of all levels. During her certification fieldwork and now as a Certified Practitioner, Michelle continues to be amazed at how the horses change, both mentally and physically, when you show you are listening to all the subtle body cues and communication they are sending your way. The improvement in their performance and mobility is rewarding in itself, but the improvement in their demeanor and relationships with their owners is "the icing on the cake".