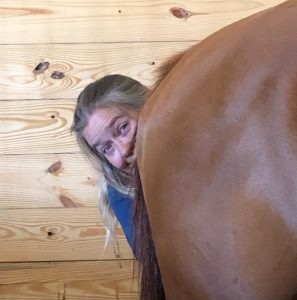 My happy place has always been found with animals. I grew up wandering around behind a variety of them on our small farm in Colorado. From chickens and ducks, to several different breeds of horses and our cow Patty (Dad was great with names). I was happiest when I was with them. I enjoyed simply being among them, being part of their herd or flock. Watching their interactions, the conversations they would have without "saying" a word, was a favorite pastime. Happy, comfortable creatures make my soul happy.
In 2006 I began following a trail of learning, all kinds of different modalities and teachings to help support healthy happy animals. From natural balance hoof care, massage and acupressure certifications to different energy techniques. My goal with bodywork is to help the animal become more grounded and be as comfortable as possible in their physical existence, whatever that may look like for each individual animal.
Finally, with Masterson Method®, I discovered a technique that was not only incredibly effective, but also resonated with my soul. You are truly working with them, rather than on them. The gentle, interactive nature of Jim Masterson's technique builds a trust and relationship with the animals which creates a space for them to release accumulated tension and stress which directly affect comfort, attitude, mobility, training and performance.
I will travel just about anywhere to help an animal.