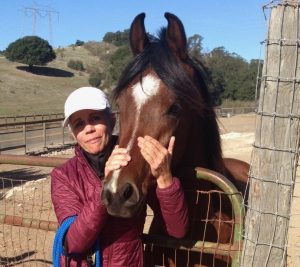 Michele's passion for horses began as a child.  When she was about 10 years old, she became involved in the local Pony Club- which happened to be in Saudi Arabia as her father worked for ARAMCO.  She was very active with Arabian horses in her formative years.
During Michele's 30 year career as a RN at a local acute care hospital, her passion for horses continued.  She worked with endurance horses from 2006- 2011, spending many hours on the trails and fire roads of the San Francisco Bay Area.  The conditioning and training of horses for endurance and NATRC events was a good opportunity to learn even more about these amazing athletes.
In 2015, Michele's own young horse was having some physical issues.  A friend introduced her to two equine modalities- The Masterson Method and Equine Microcurrent.  These two modalities seemed to bring her horse relief and a restored sense of calm.  This was so inspiring to her that she became a certified practitioner in both.  There is a special place in each of these modalities in assisting these sensitive and intelligent beings.  I am so pleased to have found a way to continue my calling as a nurse by broadening the horizons to include our equine friends.