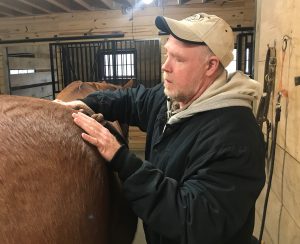 Mike has a passion for horses that runs deep. He has loved horses ever since he can remember. His grandfather and great-grandfather raised and raced standard-bred race horses. Whenever he visited the farm, he took every opportunity to be in the barn. He always wanted a life with horses. He has spent a lot of time traveling and learning various methods of training. He still does.
While on that journey, He discovered The Masterson Method® and he realized that training isn't the only way to help horses.  He really enjoys helping horses through his bodywork practice. Mike finds each horse he works with to be a puzzle and helping them to find and release tension to be very rewarding.
Outside the barn, Mike is a high school teacher.