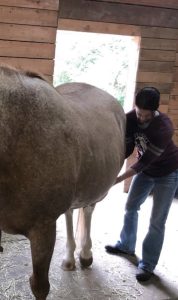 I grew up with horses and have always been fascinated by them. I was without them in my life for several years after moving out on my own and starting a family, but they were never far from my heart. I brought home a Shetland pony for the kids followed soon after by a young Paint mare. She had excellent conformation and a kind, sweet temperament, but became explosive and unpredictable under saddle. I found her a job in a therapy program that did not involve riding where she excelled, especially with kids. I then began investigating every form of bodywork available, and when I came across The Masterson Method®, I was hooked by the connection and the subtle, profound effect it can have. I started working toward certification as a Masterson Method practitioner (to become a professional equine bodyworker), and had also started volunteering with a friend's program for at-risk youth, partnering with her herd of horses. I was again hooked by the connections I witnessed and the effect the kids and horses had on each other.
When I found out about the MMES training and certification, I knew it was the perfect way to combine my love for horses and kids. Now that my own kids have finished school and are headed off in their own directions, I have focused on completing my practitioner certification, and making my passion my work.
I am very fortunate to have my own little herd at home The Shetland pony and Paint mare have been joined over the years by an assortment of companions, including an off the track Standardbred, a retired Fjord, a Haflinger, and a Jersey steer, who also loves a good MM session!