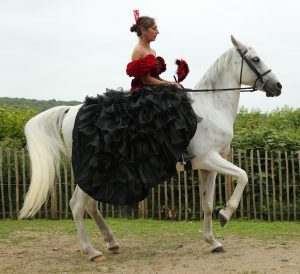 Melanie has been involved with horses for most of her life. She trained and rode horses in endurance riding competitions at international level and was ranked the top British Endurance rider and placed 8th in the European trophy.  She became British Endurance champion riding her own horse, Schenkers Samurai and also took the coveted 'Best Condition' award' for the same 160 km race.
Since retiring from competitive riding, Melanie has focused on the relationship between horse and human, which led to studying natural horsemanship, and at the same time, she began looking into bare hoof trimming in which, after graduating the school of Barehoof Strategy, she became a professional hoof trimmer.
Melanie also works with a professional dancer and together they have established a unique dance company:  Barehoof Productions. This focuses on a creative and sensitive relationship between rider, horse, and performer, where each respond to the others' movement.  Melanie was drawn to equine bodywork to be able to keep her performance horses in top condition, and also to assist with her hoof trimming work on clients' horses.
The Masterson Method® fits well with her ethos of working with the horse using natural methods to connect and communicate.
With over 12 years of experience of trimming hooves, Melanie can often see and feel imbalance or restriction within the body of horses as she works on their hooves, and with this in mind, she is able to offer owners both hoof care and bodywork in one session.