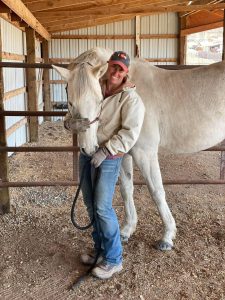 Originally from northern Minnesota, Meghan did not come from a horse family but was lucky enough to have parents who supported her horse obsession from an early age. She started taking riding lessons at eight years old, then worked at the stable at the age of ten and was able to own her own horse shortly after. She spent her childhood trail riding and had a passion for barrel racing and pole bending. After an injury to her barrel horse after high school, Meghan was introduced to dressage which has become a lifelong passion. 
Meghan has continued to work in the equine industry since that first stable job when she was ten. She spent a year as a working student in Stouffville, Ontario working at a dressage barn, worked as head wrangler at a guest ranch in Crawford, CO, worked for outfitters packing hunters into the wilderness, spent a summer packing mules in Glacier National Park and has been managing a breeding farm in Durango, CO for the last eight years. She owns two Arabians with whom she practices dressage and enjoys trail riding in the mountains as much as she can. She has just gotten into endurance riding as well, and hopes to start competing more with her young gelding next year. 
After hearing about the Masterson Method®, Meghan took the weekend course and was hooked. Masterson Method opened up her eyes to a whole new level of communicating with horses both on the ground and in the saddle.  She finds the challenging horses to be the most rewarding and loves how this method works WITH the horse to release tension.  There's nothing like watching a horse who is full of tension just MELT and let everything go!
Meghan enjoys working with clients and their horses to keep the horses feeling the best that they can, while educating clients on how they can best help their equine partner.