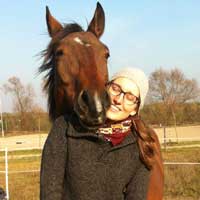 Everything started when Matylda purchased her first horse – Burghley – in 2009. She realized very soon that he was not like other horses: he was very introverted, scared of everything and he didn't trust people. Burghley was a real challenge and the most demanding trainer of all for his new owner.
To find a way to gain his trust Matylda started to look for different training approaches and bodywork techniques. She completed several equine sports massage courses ran in her area and she started to play Parelli games with her horse. It took a lot of time, patience and persistency to train Burghley, but gaining his friendship was the biggest reward.
After succeeding with her own horse, Matylda felt that she would like to work as a massage therapist to help others. She did a one-year apprenticeship with a Swedish equine massage therapist and later on she started the Masterson Method® Certification Program.
Using Masterson Method® Matylda realized how much more information she is able to obtain from each horse and how horses enjoy and willingly participate in bodywork sessions. It was also very important for her to see that Masterson Method® techniques are easy to combine with other methods she has learned.
In addition, Matylda is interested in equine nutrition, barefoot trimming and horse ground training. She has also completed a course in equine myofascial therapy.
Matylda is based in Warsaw and she is willing to help owners and their horses in the Warsaw area.