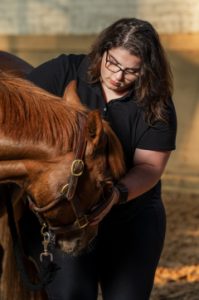 I have always been a horse girl, and formally got my first horse job as a groom in 2017. I worked up to a position of assistant trainer in a school program, was the school program administrator, and training in dressage at the same time. I first heard about the Masterson Method® in 2018, when a rider I was grooming for noticed my feel and sensitivity to horses, but I didn't look into it until 2020 when teaching lessons came to a stand still, and I had extra time to play with school ponies.
I began practicing for a few minutes here and there as I was helping care for them.  I then formally began pursuing education in Masterson Method® with a weekend seminar in September 2021 and received my certification in December 2022.
Going forward, I plan to add many other certifications and continued education to my quiver, including KT Taping, Advanced Anatomy courses and Biomechanics.
I am located in Metro Detroit, and gladly travel anywhere within 2 hours of my location.
Santa Clair Shores, Michigan , United States