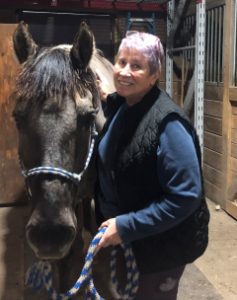 Horses and little girls – my parents always thought I would grow out of the first love of my life, but it never happened! While we could never afford a horse (and my arguments that we could keep a horse in the garage fell on deaf ears), I never stopped looking for ways to be around horses and ride them. Circumstances ended my riding days, but not my love for these magnificent animals. When I retired, I knew that my "real" job needed to be something special that allowed me not only to continue to interact with horses, but to be with them on a deeper level. That was when I found the Masterson Method® and began my journey to learn all I could about equine body work, such as how to recognize a horse's restriction and help relieve it. It wasn't an easy journey, but it was a fulfilling one.
I've learned to have confidence in my abilities and trust the horse to tell me what it needs. Hopefully, I can also earn the trust in my abilities by the horse's owner for whom the animal is their pride and joy. I look forward to working with your horse and gaining its trust and yours. My goal is to help your horse be the best it can be whether for pleasure, work or competition.
During late spring, summer and early fall months, I'm located in the greater Milwaukee, Wisconsin area and during the rest of the year I can be found in Naples, Florida.