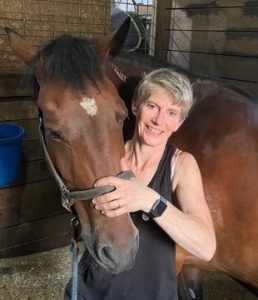 Mary Lynn has had an interest in applying her skills as a Physical Therapist to care of horses for several years. She was interested in The Masterson Method® because it provides a systematic approach to horse body work that blends nicely with therapy techniques for humans. Moving key areas of the body in a relaxed state while decreasing tissue tension, increasing range of motion without triggering reflexive resistance applies to horses and humans equally.
A lifelong rider, Mary Lynn currently competes in dressage. She has experience working with horses of all ages, from weanlings to over 30-year-old seniors. Every horse contact has provided deeper understanding of these amazing animals as well as an appreciation of the uniqueness of each one.
Masterson Method® Integrated Bodywork can improve your horse's performance, overall wellness, and mobility. Mary Lynn looks forward to serving the central Michigan and Thumb areas, bringing the opportunity to help your horse be a more effective partner with you.